Run 6 lakes on Saturday 11 August 2018!
The name of the race "6 sjöar" – six lakes – is obvious: all distances encircles lakes, the marathon encircles all six lakes. You can register here. It is an unique event and an opportunity to enjoy Swedish landscape with your running shoes on.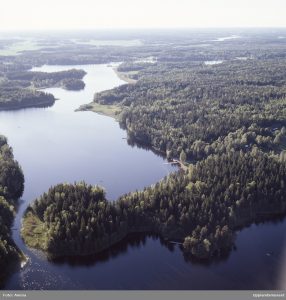 Results from the race 2017.
The location of the event, Fjällnora, is an isthmus between two of the lakes. Here you will find the most popular beach of the Uppsala region. So you can choose any distance – 5, 10, 21 or 42 km – and celebrate your finish with a well deserved swim in the lake. The first year (2016) attracted 313 participants including runners from the Czech Republic, Holland, UK and US. The second year the weather forecast promised heavy rain, so we had less runners, 301 showed up. But the rain was short, and ended before the first start.
The idea
It is more fun to run around something, and doing one lap. And what is more nice than running around a lake, and finish with a jump right in the blue? The lakes east of Uppsala make up for the magic combination of 5, 10, 21 and 42 kilometres.
One of our founders tried a six lake run last winter. The Nike running app stated 42,2 km. Not more, nor less than a full marathon! He had earlier noted that the distances around four lakes completed a half marathon. At the center of the courses there the best beach in the area, with café, parking etc.
Choose your distance
The shortest (5,5 km) is a beautiful forest run around the lake Ramsen. There are some short steep hills, not more than a few meters high but challenging. You will cross two bridges, one of them is temporary places here for the event.
All other distances are mostly flat. Mainly on small roads through forest or rural areas. But please note – there will always be some running on forest tracks. Look out for roots and other obstacles. You will se a typical part of the region of Uppland, including glimpses of the lakes. You will see the century old summer houses of Marielund and cross the tracks of the steam train Lennakatten. But beware – the train is on duty, cross the tracks with care.
The two shorter distances are possible to walk all the way. The longer ones you must run for most part, since we plan to have all participants in around 16:00.
The races start on Saturday, August 11, 2018:
10:00 – 42,2 km, marathon
10:30 – 21,1 km, half marathon
11:00 – 10,5 km
11:30 – 5,5 km
Registration and fees
Registration is possible on race day, but there is an additional fee of 50 SEK. The admission page is mostly in Swedish, but it is easy to understand :-). Write your name, distance and contact information. The fee is SEK 250 for 5 km (SEK 100 for participants 15 years or younger), SEK 350 for 10 km, SEK 500 for 21 km and SEK 600 for the marathon, 42 km.
You can change distance and swap names, but we cannot reimburse the fee if you have to cancel the last two weeks.
Getting here
Fjällnora is located 15 km east of Uppsala. Uppsala is easily reached with train from Arlanda airport (20 minutes) or Stockholm (40 minutes). From Uppsala you can go by car, bus 809 or the old steam train Lennakatten. Please observe that the bus stop is 3 km from Fjällnora (transfer is possible to arrange).
If you choose going here by car, it is very easy. Uppsala is located along the E4 highway. Exit the highway to road 282. After about 10 km on road 282, turn right at the sign Fjällnora. Another 3 km you will find a lot of parking lots.
Those of you staying in the neighbourhood could come here by bicycle, rowing boat or on foot.
Where to stay
It is possible to stay in a hotel in Stockholm, and arrive in the morning, but we recommend to find a place nearer. Uppsala have plenty of alternatives from luxurious hotels to cheap stays. There are however some nice alternatives around the lakes:
Fjällnora have some cottages right beside the start and a camping ground.
Odalgården is a small guesthouse on the opposite side of the lake Trehörningen. A nice option is to ask for a rowing boat or a bike to come here.
Frötuna is a mansion on the very north of the marathon course. The offer retreats and rooms.
Please note
We do not provide any insurances for you. All participation is on your own risk. The four distances are relatively safe. The distances 10, 21, 42 km cross the museum railroad "Lennakatten". Although the train is not fast, it cannot stop in short notice. The marathon cross road 282, where extra caution is needed. A guard will be placed there to assist.
All distances are well marked, but it is possible to loose your way. A smartphone with GPS can become handy. We are happy to get all responses on how to improve the event.
Contact
Please contact us for further information: