Buses 20 aug 2022
Information updated June 4, 2022
There are a free bus transfer for participants from Uppsala central station to Fjällnora. Of course the buses run on fossil-free fuel.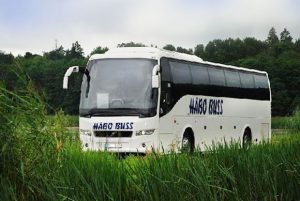 They depart from bus stop E3 (see map below). That is on the east side of the railway tracks, the street adress is Stationsgatan . The buses are provided by the bus company "Håbo buss" and has a sign "6 sjöar" in the front.
It is best to arrive around 45 minutes before start get your  number bib etc.
Preliminary timetable from Resecentrum (E3) to Fjällnora
08:40 (arrives 09:10). Best for marathon runners. This bus pass the Arena Hotel about 08:47.
09:10 (arrives 09:40). Best for half marathon runners (late marathon runners may get it if they already got their race number)
09:20 (arrives 09:50). Best for half marathon runners.
09:50 (arrives 10:20). Best for 10,8 km- and 5,5 km-runners
From Fjällnora to Resecentrum
Please note that we cannot estimate when people want to return home, if a bus gets full you may have to wait for the next.
13:30
14:30
15:15
16:00
UL (the regional bus company) has two buses according to time table (ordinary fees):
– 13:45
– 15:45
– 17:45
Alternatives: Talk to the staff and we will help you get back to Uppsala. There are people who will give you a lift in their car to Uppsala or at least to the main way and bus 809 to Uppsala (bus stop 3 km away from start area)