Marathon, half marathon, 10k eller 5k?
The marathon course and the half marathon is updated and are found on separate pages.
All distances start and finish in Fjällnora by the lake Trehörningen. They are mostly flat – however  there are some lower hills up to 30 meters in height. The 5k encircles the lake Ramsen, exciting forest trails and lovely lake views. 
These courses shows you a typical Swedish landscape, dominated by forests. You will run mostly on quaint gravel roads with some brief forest trails and asphalt.
All courses are well marked and there is no need for a map or remembering the route. These description is just here for those of you who are more curious than others.
Please note that the descriptions below are written 2021 and there may be small changes to the routes.

Forest and adventure, trail run for both adults and kids.
This is the only course heading south for a start. A quick run on the gravel road for a few hundred meters will take you to an exciting forest trail leading you along the eastern side of lake Ramsen. The trail leads you among pine trees and rocks, you have to choose between looking at the views or where you are stepping. This is no place for breaking personal records on 5k. Some parts are tricky, and the distance is actually 5.5 km.
From the eastern shore the trail makes a detour deeper in the forest before leading you down to a small wooden bridge with a lovely view of lake Ramsen to the north and lake Norrsjön to your south. Here you will find the aid station.
The track goes through dense bush vegetation two hundred meters, turn right and follow the shore. You will enter the forest again and you will soon come to a steep ascend to the high western shore. Another up and down and soon you will reach Pålsundet, a strait between lake Ramsen and Trehörningen. Normally people pass here by dragging a raft connected to both sides by a chain. On race day we have a temporary bridge here. You run e few hundred meters on the isthmus and you are reaching the goal.
85% forest trail, 15% gravel road.
Some short but steep hills.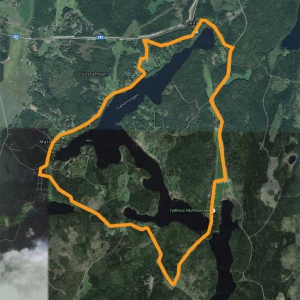 Google maps for the 10.8 km
GPX-file, 10.8 km
Map on jogg.se
Strava
This course is actually 10.8 km and will take you around lake Trehörningen counter clockwise. The course is flat with just a few small hills.
The first stretch is identical with the half marathon and 10k-course:
Starting north you will have an easy run on a pleasant trail and for a short while on the asphalt road. A soft trail and gravel road leads you down the first summer houses by the lake Trehörningen. Here you will find the first aid station.
Please beware that you will cross the railroad. There are only museum trains on these tracks, but they cannot stop on short notice. The rule is simple: Never run in front of trains, not even slow ones. A gravel road with some short hills leads you towards the main road, 282.
Before reaching the main road we turn left into a small forest path.  It is just a couple of hundred meters, but be careful – this section was first used for the 2019 race and there is not much of a path yet. Soon you will continue to run among characteristic summer houses from the early 1900's.
At the train stop Lövstahagen you will find the next aid station. Here the marathon runners continue to the right, you just keep on straight forward. Another kilometre or so and you will reach Marielund station and another railroad crossing. Same rule applies: Don't run in front of trains. Here starts a stretch of asphalt.
Reaching the Marielund farm you will turn sharply left down to the ponds. The farm, ponds and the houses in this area are a property of the Marielund mansion. (There is a lovely 17thcentury mansion further down, by the lake Gårsjön). Another sharp left turn and you will begin a long gravel road through the forest with occasional small old, wooden houses. Along the road you will find an aid station at the place where the marathon runners will make you company for a while. However, you will only meet them here if they are elite runners and you are taking it slow.
In the tiny village Skräddartorp you will turn left, the longer distances keep heading on.Here you will run along a long, grassy meadow. The grass is taken down, but if you are tired you might find the soft ground challenging. At the end of the open meadow, you are back in the forest, but there is actually just 200 meters with one or two turns and and a short hill. The short hill ends with a two meter drop, so be careful.
Here you will meet the 5 k trail and you are at Pålsundet, a strait between lakes Trehörningen and Ramsen. Normally people pass here by dragging a raft connected to both sides by a chain. On race day we have a temporary bridge here. You run e few hundred meters on the isthmus and you are reaching the goal.
25 % asphalt
60% gravel road
15% trail
Flat course with some small hills.