5.5 km – Run around lake Ramsen. Short adventure for both adults and kids.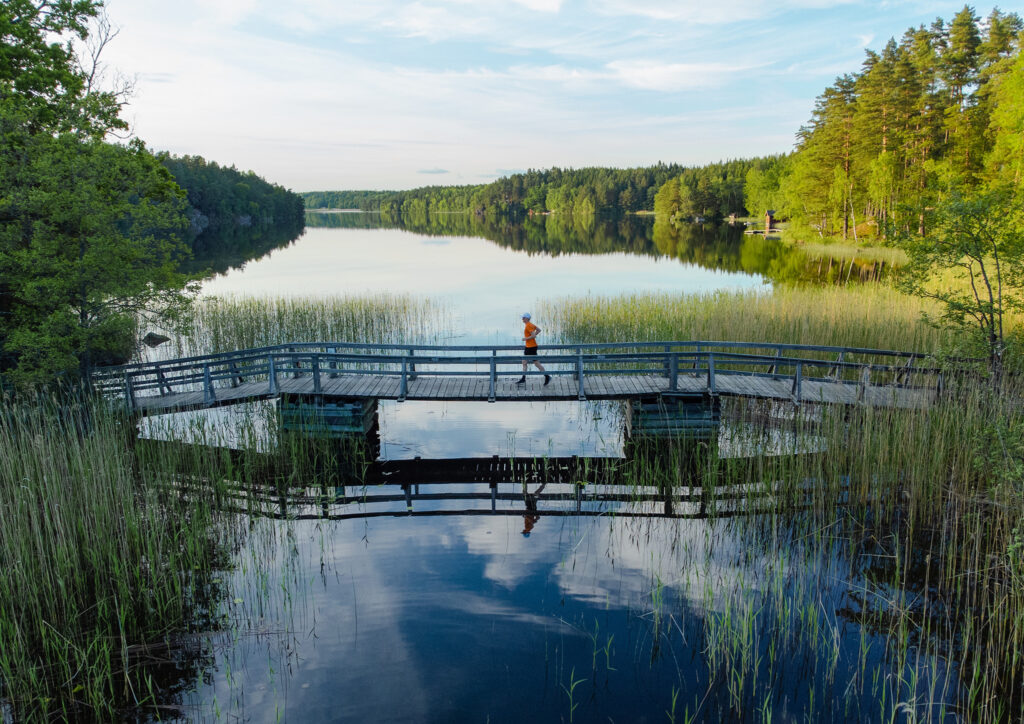 You will cross two bridges, see three lakes and som wild forest on this one. It's perfect both for those who want challenges as well as those who just want to take a beautiful walk. Even fast runners need to take it slow from time to time. This is no place for breaking personal records on 5k. Some parts are tricky, and the distance is actually 5.5 km. There are one aid station offering water, energy drink, bananas and sweets.
GPX-file, 5 km 2022 (compressed to .zip)
Link to Strava, 5 km 2022
PDF showing all distances.
All distances – the marathon, half marathon, 10k and 5k start and finish in Fjällnora by the lake Trehörningen, on the same day. The marathon start first at 10 AM, the other distances with 30 min intervals. So if you have friends running other distances, they don't need to wait long.
Elevation: Don't worry, there are no mountains in this part of Sweden. The difference is not more than 20 m between the lowest and highest point, but still – the 5.5 km is the most hilly of the four distances. Take care when running downhill, especially in rainy weather.
Find your way: All courses are well marked. The 5 km course is marked with green-pink plastic ribbons and signs saying "6 SJÖAR". You should not take notice of wooden signs, yellow and orange paint – they mark hiking trails in the area.
You can use any running shoes, trail shoes are not necessary unless you are trying to finish first. If it is rainy however, the track may be slippery .

The 5 km race starts at 11:30 and is the only distance where we start running south. The first 800 m is just along the gravel road south, then we turn into the forest. From the eastern shore of lake Ramsen the trail makes a detour deeper in the forest before leading you down to a small wooden bridge with a lovely view of lake Ramsen to the north and lake Norrsjön to your south. Here you will find the aid station at km 3. Take a break, have some sweets before continuing your adventure.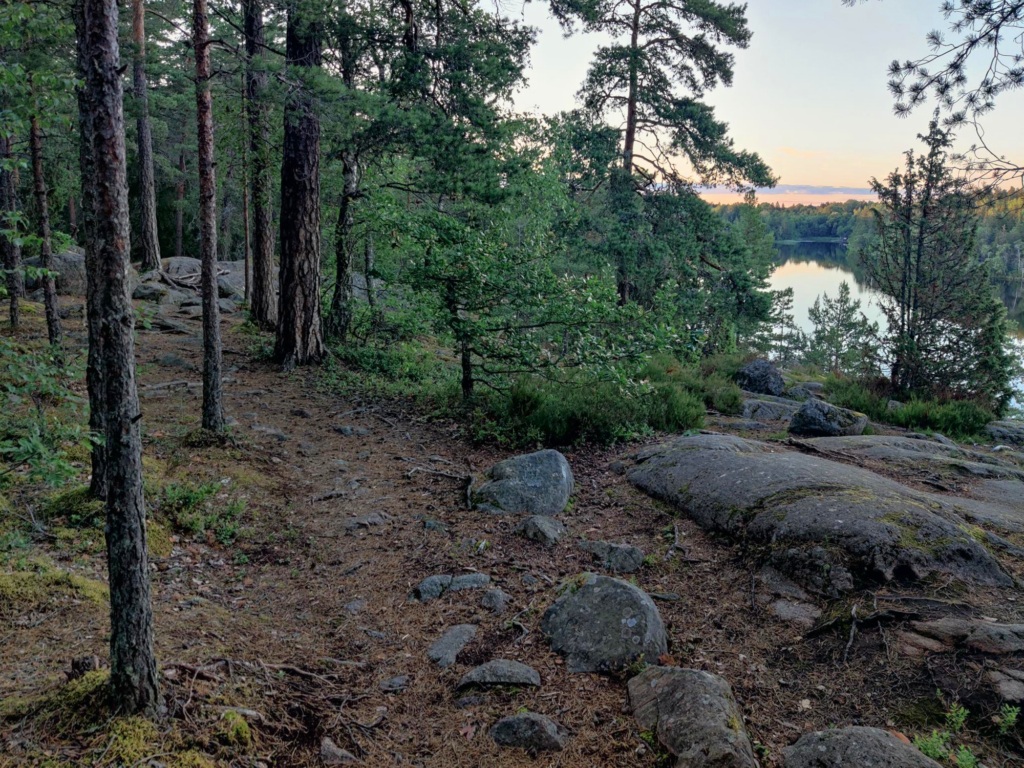 The path goes through leaf forest for a two hundred meters, turn right and follow the shore. You will enter the forest again and you will soon come to a steep ascend to the high western shore. Another up and down. It happens that people turns into the wrong path, but don't worry, just keep to your right and soon you will reach Pålsundet, a strait between lake Ramsen and Trehörningen. Normally people pass here by dragging a raft connected to both sides by a chain. On race day we have a temporary bridge here. You run e few hundred meters on the isthmus and – hooray – you are back in Fjällnora. Rush to the finish and your well earned medal.