Marathon, 42 km – run around 6 lakes
Running the marathon will take you around six lakes in a typical Swedish forest landscape. Mostly easy to run – small gravel roads, some nice forest paths and only a few km on asphalt. About 5 km of the marathon will be forest paths with roots, so be prepared to run slow there. We have got plenty of service stations, and the course is well marked. You can take a swim after the race, but in case of hot weather it is nice to know that you pass to two beaches along the way.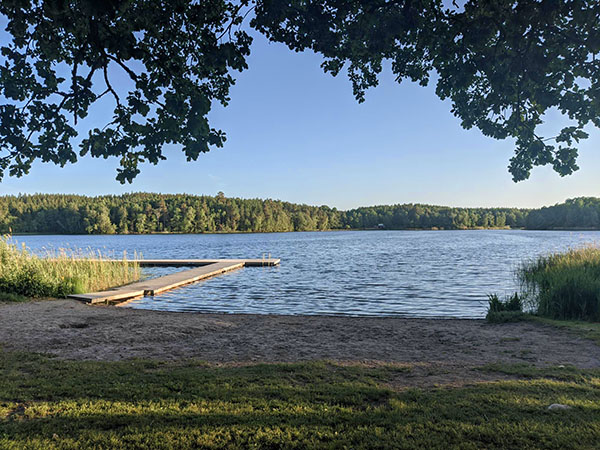 All distances – the marathon, half marathon, 10k and 5k start and finish in Fjällnora by the lake Trehörningen, on the same day.
Start: The marathon start first at 10 AM, the other distances with 30 min intervals. So if you have friends running other distances, they don't need to wait long.
Actually 43,2 km: Please observe that while we are running on paths your GPS might show you 42 – 44 km. We measure the distance to 43,2 km. So to be sure to deliver at least 42,2 we give you that extra km as a bonus, for free!
Elevation: Don't worry, there are no mountains in this part of Sweden. The course is mostly flat (from 15 to 55 m above sea level) – however there are some lower hills up to 30 meters in height, which can feel much when you are tired. Runners used to the Netherlands or Denmark might find this challenging :-).
Find your way: All courses are well marked and there is no need for a map or remembering the route. These description is just here for those of you who are more curious than others.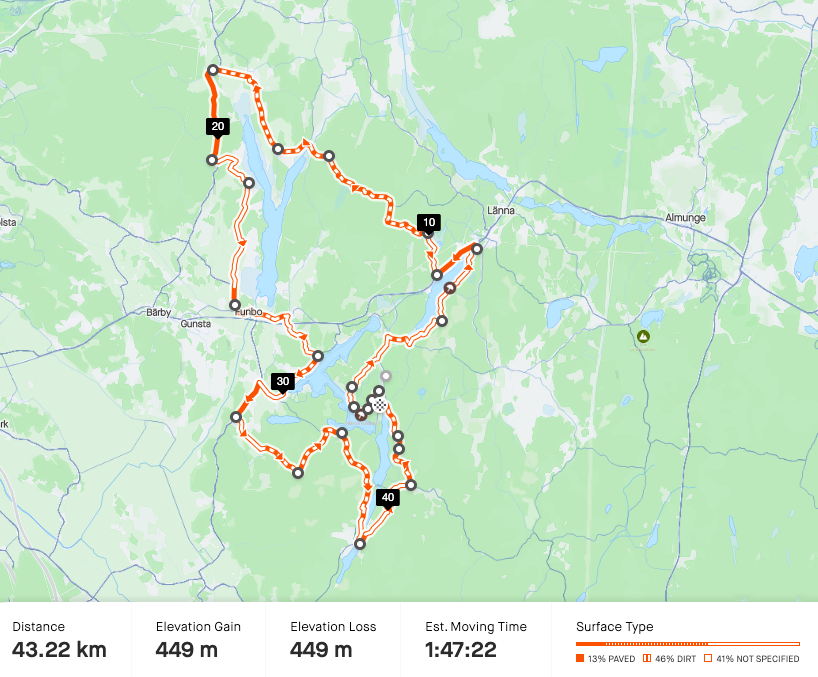 Please note that the descriptions below are written early June 2022 and there may be changes to the routes.
These 42,2 km will move you around six lakes counter clockwise: Trehörningen, Lötsjön, Funbosjön, Gårsjön, Ramsen and Norrsjön. You will run close to Lötsjön and Trehörningen, you will get som glimpses of Funbosjön, Ramsen and Norrsjön. You won't be able to see Gårsjön at all – on the other hand you will pass a seventh lake, lovely Ältsjön.
Starting north you will have an easy run on a pleasant trail and for a short while on the asphalt road. Soon you will find the most technically challenging part, in the forest south of lake Lötsjön. Take your time, avoid tripping on stones and roots. You will get some beautiful views before the first aid station at a beach. If it's hot it could be a good idea to take off your shoes and shirt and jump in the lake.
Please beware that you will cross the railroad at the village of Länna. There are only museum trains on these tracks, but they cannot stop on short notice. The rule is simple: Never run in front of trains, not even slow ones. You will also pass the main road, 282, so be careful.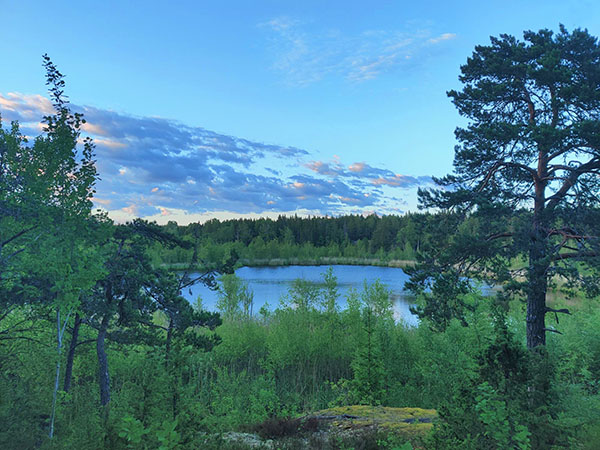 After about 1 km along the asphalt road (a sidewalk on the main road 282), we will once again turn into the forest, mostly easy to run. Here you will see the small lake Ältsjön. After that you will run several kilometers in a mostly uninhabited area. One or two old farm houses, otherwise dark forest or big open areas of fellings, where the forest is harvested.
Running around lake Funbosjön is quite a long stretch, but a nice one. The course continues through a mixed agricultural landscape. Beginning with small cottages you will see how the farms get bigger until you will reach the Frötuna mansion – once they ruled a large part of this area. At Frötuna you find an aid station in beautiful setting. Heading west you will reach the asphalt road going south.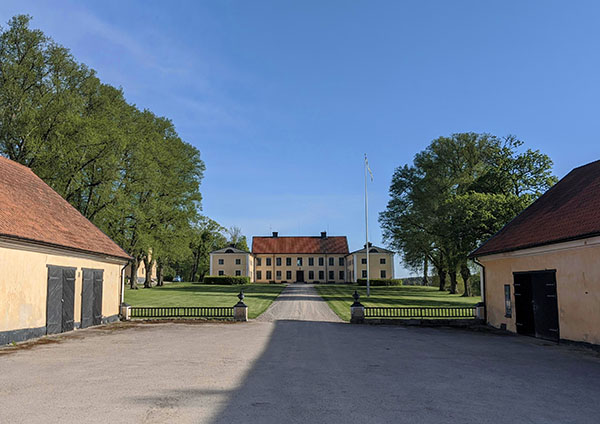 Another kilometer or two of asphalt leads you to a sign "Funboslätt" where you turn left. It will give you another glimpse of the road and more variation. You will run to the next aid station at a small lovely cottage. After that you will follow historic village roads (some no longer in use) further south.
More open landscapes and you will reach the 12thcentury Funbo church where another aid station is located. Here you will find a WC. You cross the 18thcentury stone bridge and then you need to cross the main road 282 once again. We have got a guard – but please be careful, tired runners and traffic is a bad mix. Some drivers just won't slow down.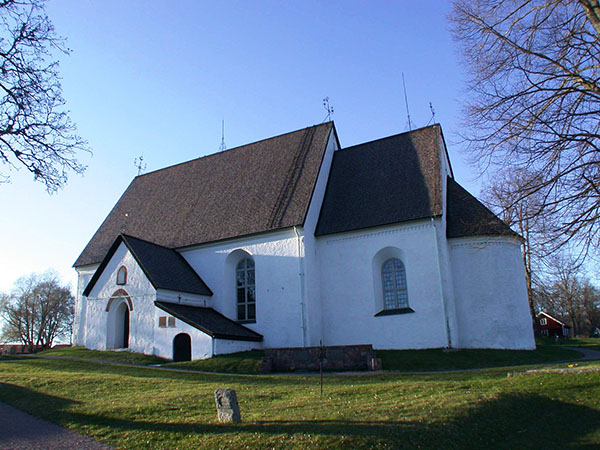 There are a short stretch about 700 m through a forest before coming to lake Trehörningen.
The last stretch is identical with the half marathon-course:
At the train stop Lövstahagen you will find the an aid station and a view of lake Trehörningen. Here you will join the half marathon route. Next is a lovely stretch through the village of Marielund, with 100-year old summer houses. You will cross the train tracks once again by the small station house, so take care! There is a WC in the small café there.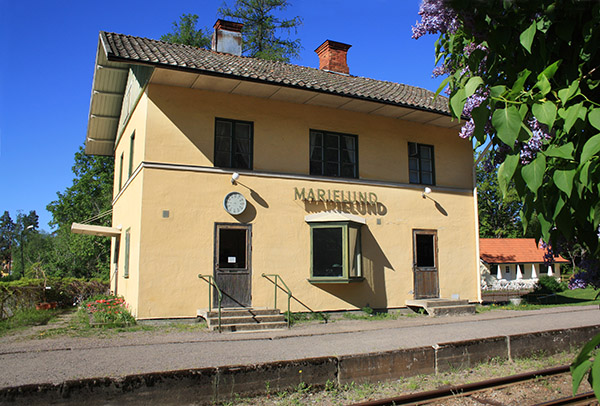 Continue on asphalt roads through a lovely open landscape to the next aid station, Söderby såg. Here you will continue on gravel roads between forests and farms until the next aid station, Häggdal.
Here (after about 35 km) you will meet the 10 km course, but you will In the tiny village Skräddartorp you will continue straight forward while the 10k-runners turn left. Soon you will arrive at the aid station Norredatorp, a small homestead at the end of the road – now belonging to the students of Uppsala university. You will continue on a forest trail along the shore of lake Norrsjön.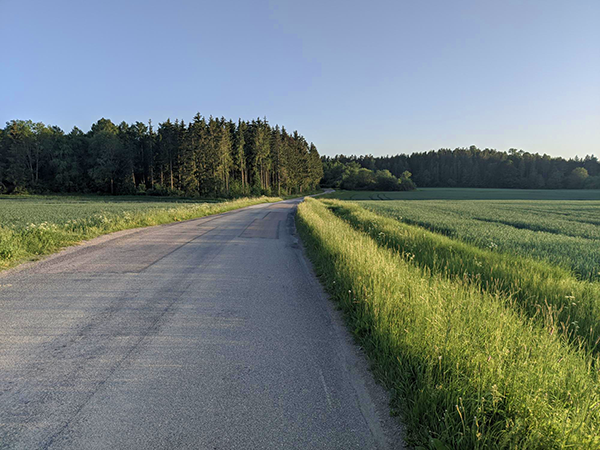 Another gravel roads starts here and brings you to the village Eda at the southern tip of lake Norrsjön, and you are about to turn north after 38 km. Your way back to Fjällnora will be on the east side of the lakes Norrsjön and Ramsen. After a small gravel road and a long hill you will run one kilometer along a small forest track where you find the next and final aid station. The last kilometres will feel a lot easier when thinking of the awaiting swim after finishing.