Half marathon, 21 km – run around 4 lakes
Running the half marathon will take you around four lakes in a typical Swedish forest landscape. Mostly easy to run – small gravel roads, some nice forest paths and only a few km on asphalt. About 2 km of the half marathon will be forest paths with roots, so be prepared to run slow there. We have got plenty of service stations, and the course is well marked. You can take a swim after the race, but in case of hot weather it is nice to know that you pass to two beaches along the way.
GPX-file, half marathon 2023 (compressed to .zip)
Link to Strava, half marathon 2023
PDF showing all distances.
Video from one of the runners.
Another video from a runner 2022.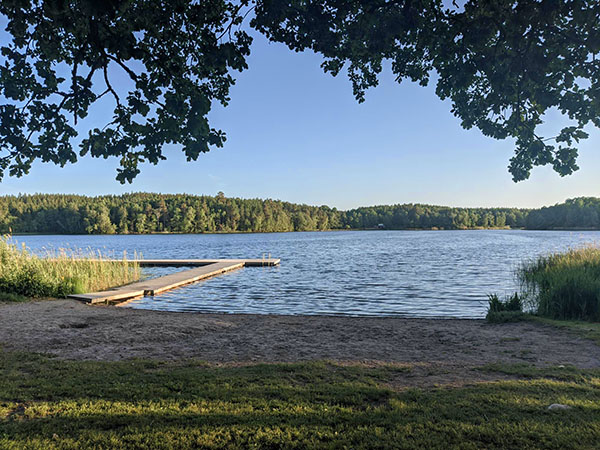 All distances – the marathon, half marathon, 10k and 5k start and finish in Fjällnora by the lake Trehörningen, on the same day. The marathon start first at 10 AM, the other distances with 30 min intervals. So if you have friends running other distances, they don't need to wait long.

Start: 10:30 AM
Elevation: Don't worry, there are no mountains in this part of Sweden. The course is mostly flat (from 15 to 55 m above sea level) – however there are some lower hills up to 30 meters in height, which can feel much when you are tired. Runners used to the Netherlands or Denmark might find this challenging :-).
Find your way: All courses are well marked and there is no need for a map or remembering the route. These description is just here for those of you who are more curious than others.

Please note that the descriptions below are written early June 2022 and there may be changes to the routes.
These 21 km will move you around four lakes counter clockwise: Trehörningen, Gårsjön, Ramsen and Norrsjön. You will run close to Trehörningen, you will get som glimpses of Ramsen and Norrsjön. You won't be able to see Gårsjön at all. But you can take a swim in Norrsjön after about 17 km, a real treat if the weather is hot.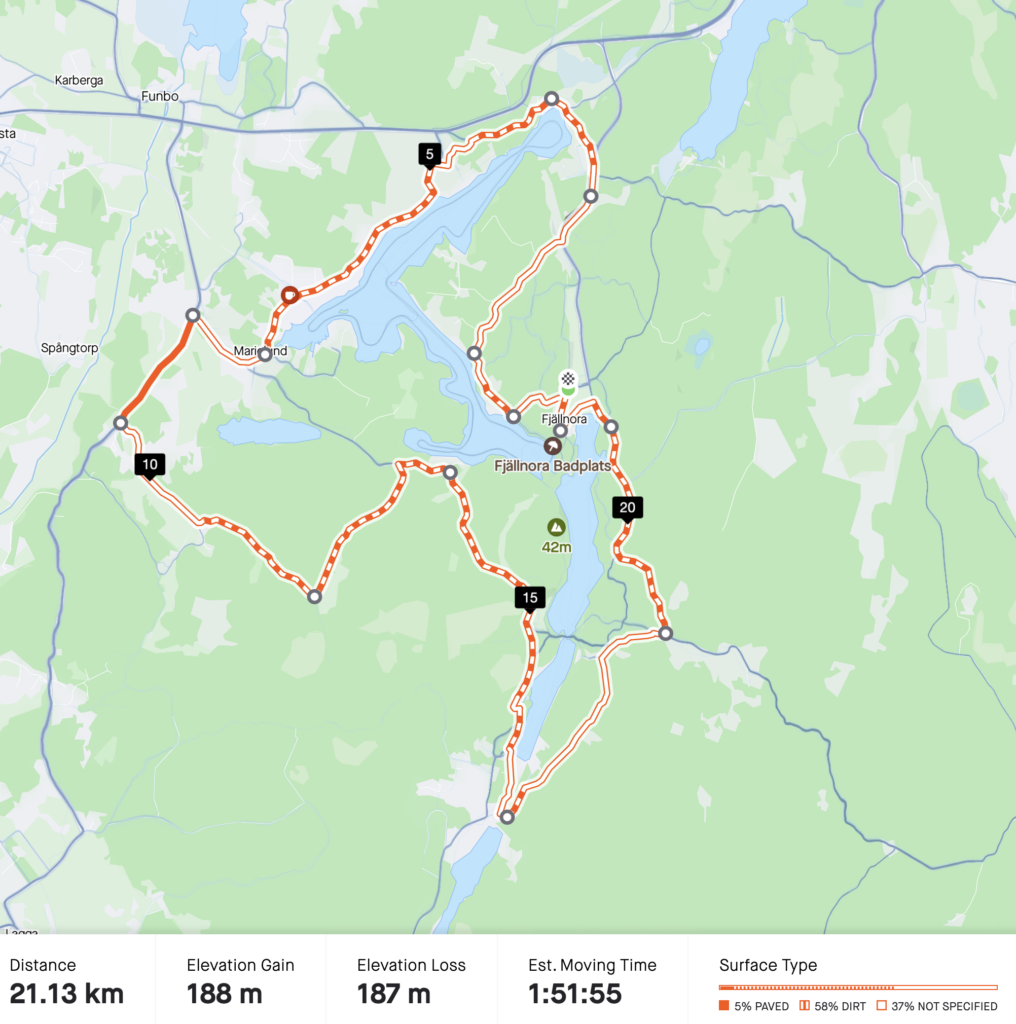 Starting north you will have an easy run on a pleasant trail along lake Trehörningen and som gravel roads. You will run parallell to the asphalt road leading to Fjällnora and turning to the beautiful summer houses around the lake. Please note that you will cross the railroad after about 3 km. The train is slow but cannot stop, so please have all respect. Don't run in front of the train!!!
At the train stop Lövstahagen you will find another aid station and a view of lake Trehörningen. Next is a lovely stretch through the village of Marielund, with 100-year old summer houses. You will cross the train tracks once again by the small station house, so take care! There is a WC in the small café there.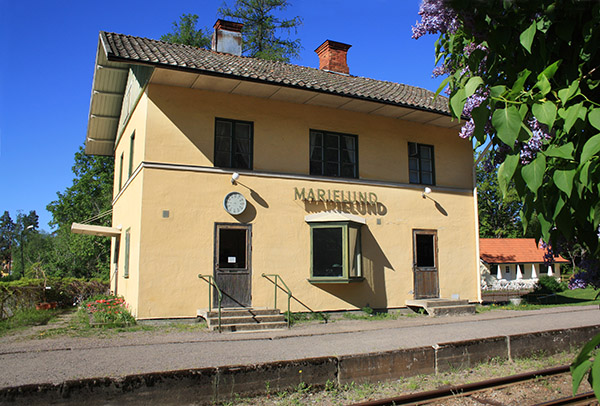 Continue on asphalt roads through a lovely open landscape to the next aid station, Söderby såg. Here you will continue on gravel roads between forests and farms until the next aid station, Häggdal.
Here (after about 35 km) you will meet the 10 km course, but you will probably just see some blue ribbons. The 10 km-runners had passed a long time ago. In the tiny village Skräddartorp you will continue straight forward while the 10k-runners turn left. Soon you will arrive at the aid station Norredatorp, a small homestead at the end of the road – now belonging to the students of Uppsala university. You will continue on a forest trail along the shore of lake Norrsjön.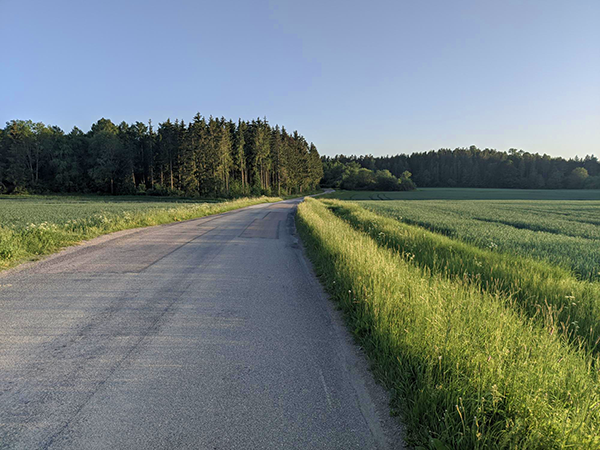 Another gravel roads starts here and brings you to the village Eda at the southern tip of lake Norrsjön, and you are about to turn north after 38 km.
Your way back to Fjällnora will be through the deep forests on the east side of the lakes Norrsjön and Ramsen. You will run uphill along a small gravel road, it might feel demanding and long but soon you will reach the final aid station. Another km along forest track, and you will soon meet another gravel road through dense forest. The last kilometres will feel a lot easier when thinking of the awaiting swim after finishing.
When reaching Fjällnora you will do a small detour up to the café and back to the start area. The reason for this is dual: The distance need to get long enough to be a half marathon – and it is safer to have all distances reaching finish from the same direction.