10.5 km – run around lake Trehörningen
You will get a little of everything in this race. It's easy to run – small gravel roads, some nice forest paths and one crossing on a temporary bridge. You will see forests along the way and the beautiful summer villas of Marielund, and with some luck – a steam train passing by. There are three service stations, and the course is well marked. After finish, you are welcome to take a swim.
GPX-file, 10.5 km 2022 (compressed to .zip)
Link to Strava, 10.5 km 2022
PDF showing all distances.
All distances – the marathon, half marathon, 10k and 5k start and finish in Fjällnora by the lake Trehörningen, on the same day. The 10.5 km race starts at 11 AM. So if you have friends running other distances, they don't need to wait long.
Elevation: Don't worry, there are no mountains in this part of Sweden. The course is mostly flat (from 20 to 50 m above sea level) – however there are some lower hills up to 20 meters in height, which can feel much when you are tired.
Find your way: All courses are well marked and there is no need for a map or remembering the route. You will follow blue ribbons and signs. Just avoid the half marathon (red) and marathon (yellow) and you will be fine. These description is just here for those of you who are more curious than others.
Equipment: Ordinary running shoes will be fine. Bring a free Hydrapouch or you own mug or bottle.
These 10.5 km will move you around lake Trehörningen counter clockwise. Then name "Trehörningen" means "Three horns". You will actually see three lakes: Along the route you will get a glimpse of lake Gårsjön and finally, just before finish you will cross a temporary bridge between Trehörningen and Ramsen.
Starting north you will have an easy run on a pleasant forest trail. After 1 km you will run a few hundred meters on the Fjällnora-road. You continue parallell on paths (actually the old Fjällnora road) and soon you will see the beautiful summer houses around the lake. We usually put up a small aid station at Selknä, just in front of a lovely pink house.

Please note that you will cross the railroad after about 3 km. The train is slow but cannot stop, so please have all respect. Don't run in front of the train!!!
At the train stop Lövstahagen you will find another aid station and a view of lake Trehörningen. Next is a lovely stretch through the village of Marielund, with 100-year old summer houses. You will cross the train tracks once again by the small station house, so take care! There is a WC in the small café there.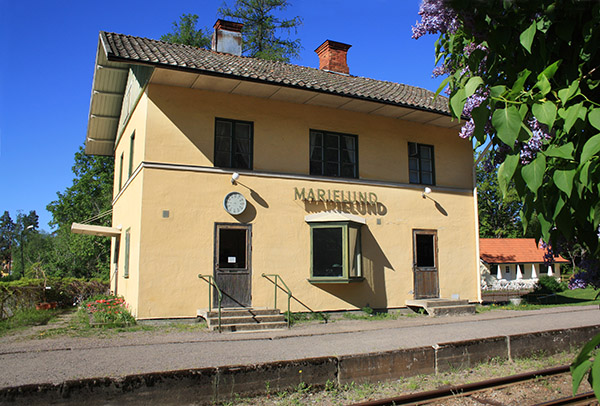 Continue from the lovely train station on the asphalt road less than one km before turning left. (The marathon and half marathon continue straight on, so watch the signs…).

The next few km will go through a forest, but you will catch a glimpse om lake Gårsjön on your right. Continue until the next aid station, Häggdal. Here the marathon and half marathon runners will join again.
You will catch a glimpse or two of Trehörningen on your left side as you continue along gravel roads, mostly through forests. In the tiny village Skräddartorp you will turn left when the marathon and half marathon runners continue straight on. You will run along a long meadow, take care – it's not a lawn. It might be tiring and the ground may be uneven.
Now the adventure starts. Back in the forest the small path goes up and steep down to the lakes. We have arranged a temporary bridge in the strait between lakes Trehörningen and Ramsen. You will hear the sounds of Fjällnora and soon you will pass the café and rush to finish and your medal.